Hotels in Entebbe offer a diverse range of options, from luxury resorts with lake views to convenient stays near the airport. Budget-friendly choices provide various accommodation styles, ensuring a comfortable stay for every traveler.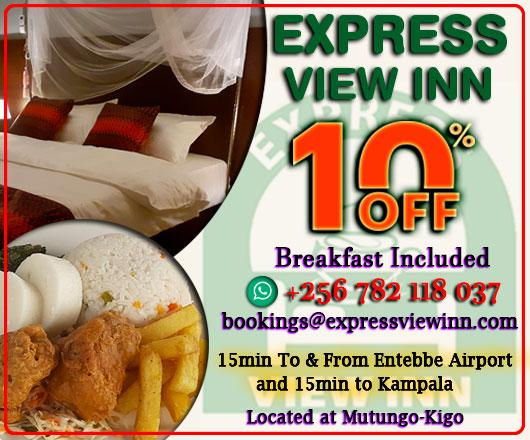 Some of the Hotels in Entebbe
Laico Lake Victoria Hotel
Laico Lake Victoria Hotel is a new modern hotel, only 13 minutes walk from Entebbe Golf Club and 6 kilometres from Entebbe International airport, right in the middle of Entebbe Town centre. The hotel is a luxury hotel and is suitable for both business and leisure travelers.
There are well decorated, relaxed rooms available. Suites add separate living areas. Each air-conditioned room is designed with an en-suite bathroom, a mini bar and a private balcony. The rooms are also fitted with TV with cable service, ornate lampshades and wardrobes.
Complimentary breakfast is served daily can be enjoyed outdoors as you enjoy the sight of Lake Victoria. The on-site restaurant offers local and international cuisine, while the bar serves liquors, brandies and whiskeys and several other varieties of drinks.
Laico Lake Victoria Hotel Entebbe also has amenities that include a spa, sauna and a hot tub. There is also a large outdoor swimming pool, as well as workout at the fitness centre for the guests plus landscaped gardens.
Laundry / dry cleaning is also available at additional charges. Baby sitting and valet parking can be arranged at no extra charge. The premises are fitted with CCTV cameras and guarded by security personnel. On-site parking is available.
---
Protea Hotel by Marriott Entebbe
Protea Hotel is only 1km from the International airport. Located on the shores of Lake Victoria. Guests can enjoy the view of the lake and the gardens from the terrace. The hotel has 73 rooms and suites with an en-suite bathroom in each, air conditioned, sound proofed and with an enchanting decoration. Free Wi-Fi is available within the premises.
Complimentary breakfast is served daily while the tides restaurant serves a variety of International dishes. Guests can also enjoy light snacks and drinks from the bar on the Agama terrace.
Other amenities include an out-door swimming pool, spa, fitness centre and bar. On-site parking is available plus the hotel is equipped with surveillance cameras and security guards watch the hotel premises.
---
Papyrus Guesthouse
Papyrus Guesthouse is only 10 minutes from Entebbe International airport. Located on the beautiful gardens in the green parts of Entebbe, ideal for luxury and convenience. The guest house has 9 simply decorated rooms, large enough to be comfortable with floor to ceiling mosquito nets.
Complimentary breakfast is served to all guests daily and meals served at the onsite restaurant. Parking space is available with security to watch.
Lake Victoria Serena Golf Resort & Spa: A luxurious resort with a golf course, spa, and beautiful views of Lake Victoria.
Imperial Botanical Beach Hotel: Situated by the lake, this hotel provides a relaxing atmosphere and easy access to the Entebbe Botanical Garden.
2 Friends Entebbe Beach Hotel: A boutique hotel located right on the shores of Lake Victoria, offering a peaceful retreat.
Airport View Hotel: A convenient option for travelers with early flights, offering easy access to Entebbe International Airport.
Gately Inn Entebbe: A charming guesthouse with a garden, offering a cozy and personalized stay.
Karibu Guesthouse: A budget-friendly guesthouse with a homely atmosphere and proximity to the airport.
The Boma Guesthouse: Known for its tranquil ambiance, this guesthouse provides a comfortable stay near the town center.
Airport Motel Entebbe: An affordable option close to the airport, ideal for short layovers.
These are just a few examples, and there are many more hotels and accommodations in Entebbe to choose from. Be sure to check the hotel's website for amenities and pricing, and consider what suits your travel needs and preferences best.